Wheel Repair
The cosmetic appearance of your alloy or aluminum wheels can be difficult to maintain. Wheels are constantly exposed to harmful road elements like tar, dirt, salt, and stones. Minor impacts like curb damage and potholes can have adverse effects on the appearance and performance of your wheels. You don't have nice wheels on your high-end vehicle for them to not look great.
At Autobahn USA Service, our wheel and rim repair and conditioning services for customers in Westborough, MA, Worcester, MA, Framingham, MA, and surrounding areas, are guaranteed to return your high-end wheels and rims to like-new conditions.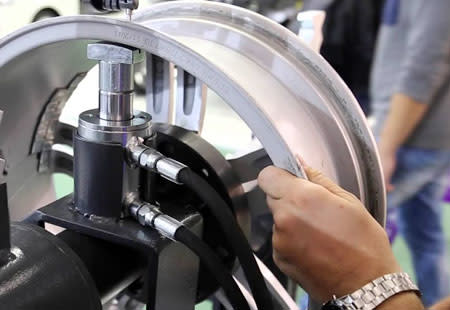 Is Wheel Reconditioning Right for Me?
Ask yourself these questions when deciding if wheel repair and conditioning is right for your wheels:
Is there rust or dirt build-up on the bead seat of the wheel or rim?
Can you see rust on the inside or outside of the bolt hole of the wheel?
Is there rust or dirt on the visible surface of the wheel?
If the answer is yes to any of these questions, then you should consider our wheel repair and conditioning services. Sometimes you may not even be aware of the cracks and defects below the dirt and rust. Allow one of our wheel repair and conditioning professionals to blast the wheel for a closer examination of the damage incurred during travel to better understand the necessary wheel and rim repairs.
Don't Replace Your Wheels—Repair Them!
During our wheel repair services, our service staff repairs surface imperfections, and apply a powder clear coat for a finished, showroom-like appearance. Your high-end wheels will look great.
Each wheel repair and conditioning service includes stripping the old finish, straightening the wheel, welding, and restoring the original color and shade with a near-exact paint match.
Give us a call now at (855) 984-7772 to schedule an appointment for wheel repairs. We'll get those wheels looking their best again. Protect your investment.
CONTACT US FOR MORE INFO ON CUSTOM WHEEL REPAIR